Book Study Group for Conscious Leaders
What if there was
a comprehensive road map to guide leaders to shift from fear-based to trust-based leadership?
Wouldn't that be a game-changer?
Let us introduce you to a whole new world of leadership.
I would love to have you join me and Susan Alexander of Rosebud Coaching and Consulting in a book study group that will explore what it means to be a "conscious leader"  in terms of results, employee/team engagement, and opportunities for creativity, collaboration, and innovation.
"The 15 Commitments of Conscious Leaders: A New Paradigm for Sustainable Success" not only provides a new way of viewing the role of leader, but it also provides a list of practices that enable you to implement and experience this way of leadership.
Why Participate?
These 15 commitments help you to create an environment of trust, candor, and accountability.  
If you're interested in creating an environment of 100% responsibility and accountability, a culture of win-win and a place where meaningful conversations can take place, this book offers practical day-to-day actions for you to consider.
How & When?
We are structuring this study group together to learn the concepts and experiment with new practices as a way to experience this new way of leading.  
We will meet for sixteen one-hour sessions to review a "Commitment", debrief our experiences of the practices and explore new insights.  Specifically, we will meet:
When: Kick-off Monday, October 22 with bi-monthly meetings falling on the first and third Monday of each month. October through June of next year
Time: 7pm – 8pm Eastern US
Place: Zoom: https://zoom.us/j/813813600 Telephone: 1 669-900-6833 Meeting ID: 813 813 600
Create New Conscious Leadership Habits
We're designing this study group in a way to maximize your learning.  
Each week we will review and share your insights from your experience of the practices.  
We will then review the content of the next commitment and the recommended practice. We may also assign additional resources – videos, readings to deepen your understanding.
Is this For You?
This page gives a very nice overview of each commitment. (it will pop-up a new website)
Read it over and ask yourself: How often am I above the line or below the line?
If you are like Susan and me, you will see there is room to improve and spend more time consciously creating life rather than reacting to life's circumstances.
Take Action
If you are interested, please fill out the form below.
We would love to have you join us and happy to answer any of your questions. You can reach us at:
Tom Rausch – Tom@leadershipbeyondlimits.com or by phone 614- 787-6826
Susan Alexander – susan@rosebudcoachingandconsulting.com or by phone 614-306-8196
Tom Rausch & Susan Alexander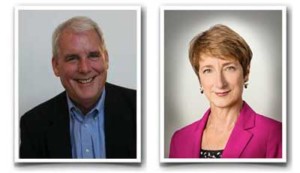 P.S.  We are very excited to embark upon this journey to become more "Conscious Leaders" and hope you can join us.