In Part 1, I reviewed common culture gap challenges and how it affects trust in the workplace.  In part 2, I'll focus on how to build up your team's trust.
Behaving Your Way into a New Mindset
Jerry Sternin, author of The Power of Positive Deviance: How Unlikely Innovators Solve the World's Toughest Problems wisely noted:
"It's easier to act your way into a new way of thinking, than think your way into a new way of acting."
Getting people to make small, incremental changes in behavior is the easiest way to make big changes to the way they think about their job.  For instance, when we teach leaders to coach, ask questions and listen, they eventually begin to see that their job is not to solve problems, but rather to develop their people to solve their own problems. Each time a leader opts to coach rather than tell, another building block of trust is added to bridge the gap. Over time, the bridge is built and the chasm crossed.
Starting at the Top
It won't surprise you to hear that this change must start at the top. This is so for two reasons. First, the problems in the culture are always a reflection of the shadow of leadership. Any lack of cohesion within the top team will show up in the culture expressed as confusion, blame, lack of transparency, internal competition, etc. Second, unless the top leaders recognize this and change their behavior, any attempt to make long term sustainable improvements will fail.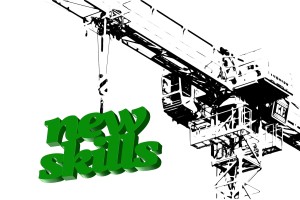 Blended Learning Approach over Time
Building trust takes time, which is why real, sustainable culture change takes time. People also need time to try out new behaviors and build new habits. That is why we always recommend teaching new leadership and communication skills in small, bite-sized bits, allowing people to experiment with new approaches, building their new skills and habits over time. This allows for practice, feedback, and new experiments. A typical leadership development program is supported in multiple ways to encourage this experimentation:
Short, impactful learning sessions focused on a single behavior
On-the-job assignments to try out the new behavior
Peer-to-peer practice to build team cohesion, support teammates and share best practices
1-1 coaching from executive leadership coaches
Job aids to provide on-demand, in-the-moment tips and reminders
Supervised group coaching to get real-time feedback from a seasoned expert
Interactive journals to capture reflections and learning
Online collaboration tools to create virtual "centers of excellence" in support of the new coaching and communication skills
In Part 3, I'll review how to change your conversations to change your culture.